Hollywood actor Jamie Foxx has finally broken his silence three weeks after he was reportedly hospitalized for some medical complications.
On Wednesday, May 3, 2023, the Academy Award-winning star took to his Instagram page to share the good news with his fans and colleagues, saying he is well and blessed.
"[I] appreciate all the love…feeling blessed," noted the 55-year-old father of two.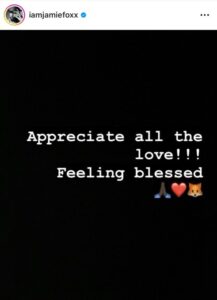 It could be recalled that on April 12, 2023, Corinne Foxx, the daughter of Jamie, disclosed on social media that her father had been hospitalized after suffering from some medical complications.
To date, the real reason why Jamie Foxx was hospitalized is unknown. Even though many reports have suggested he fell ill while on set, the actor or his PR team haven't disclosed what really happened.
In the past weeks, friends and fans of the 'Spider-Man: No Way Home' actor have exhibited overwhelming support across social media, pouring in massive prayers for him.
The hashtag 'Pray for Jamie Foxx' is still trending on social media. Even after he broke his silence, many social media users are still using the hashtag for him. It shows how much love fans and colleagues in the industry have for him.
Prior to his hospitalization, he was scheduled to host the famous 'Beat Shazam' music lyric game show on FOX. But he lost the gig due to his health. TMZ reports that Jamie won't be the host of this season's 'Beat Shazam.'