A troop who continued to play his trumpet during a royal military parade conducted by Prince William of Wales has gone viral on the internet and many social media users can't stop talking about it.
According to reports, three troops fainted during the Colonel's Review on Saturday, June 10, 2023, in the UK and it was a result of harsh temperatures. Reports say temperatures hit 30C (86F) Saturday, which is the highest so far in the UK.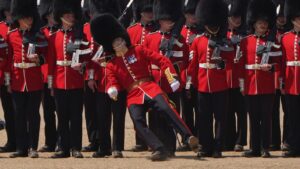 Prince William, who inspected the whole ceremony, took to his Twitter page to applaud the officers who fought with their lives to make the ceremony a success despite the challenges faced.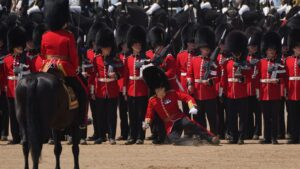 "A big thank you to every soldier who took part in the Colonel's Review this morning in the heat," he tweeted, adding "Difficult conditions but you all did a really good job. Thank you."
But among the military officers who suffered from the harsh weather condition, it was one who stood out for his extraordinary courage while his life was in danger.
In the photos and videos circulated on social media, one of the troops who fainted continued to play his trumpet while lying on the floor until the paramedics came to his rescue. In fact, he regained his consciousness and got up before the medic team arrived.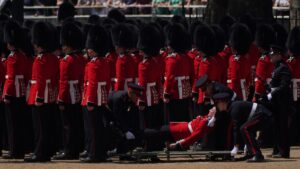 "Couldn't even set them a cooler uniform for summer? Respect to the guy he kept going," Instagram user 'blocker_010' said.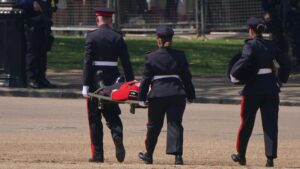 "Nah was he still playing the ting sizzling on the ground??" user 'hackneysfinest' commented.
"Man held that note," user 'iamtherealcain' stated.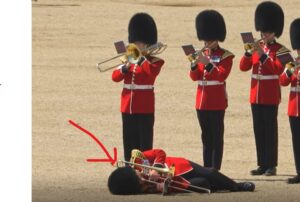 Another user added: "Poor guy is still blowing the trumpet on the floor. You would think he's been hired by Jesus to blow the trumpet on Judgement Day. Such determination to complete the job."
Check the photos from the ceremony and share with us your views on the comment below.