Ghanaian award-winning actor Yvonne Nelson has been on top of trends and headlines for the past week following the release of her new memoir, 'I Am Not Yvvone Nelson'.
The memoir highlights her struggles from childhood to adulthood — but the point of sale has to be her relationship with her mother, the abortion for Sarkodie, Iyanya's break up and politics.
Here are eight takeaways from the book that has thrown the whole country into a frenzy.
Nearly ventured into politics
After her historic 'Dumsor Must Stop' campaign and vigil in 2015, Yvonne Nelson secured a spot in the hearts of the New Patriotic Party (NPP) members. After all, the campaign was against the then President, John Dramani Mahama and the incumbent government, the National Democratic Congress (NDC).
— 𝓨𝓿𝓸𝓷𝓷𝓮 𝓝𝓮𝓵𝓼𝓸𝓷 (@yvonnenelsongh) May 1, 2015
According to the memoir, Yvonne Nelson had an opportunity to contest at the Ayawaso West Wuogon by-election against her fellow actor, John Dumelo, who was contesting on the ticket of the NDC.
She said she had a call from a top official from Nana Akufo-Addo's office to contest instead of MP Lydia Seyram Alhassan. However, she turned the offer down because she wouldn't contest against a friend, John Dumelo. In fact, John Dumelo confirmed Yvonne Nelson's claim in a now-deleted tweet.
2. Had an abortion with Sarkodie
The highlight of the memoir, Yvonne Nelson confesses to having an affair with Sarkodie and had an abortion due to the rapper's failure to accept responsibility for his actions.
According to Yvonne Nelson, Sarkodie was literally shivering when she broke the news to him. "He didn't want the pregnancy. That would damage him and his career. The only option was to get rid of it," she noted.
3. Iyanya cheated on her with Tontoh Dikeh
Away from Sarkodie's shocking revelation, Yvonne Nelson also dropped another mind-blowing revelation about her failed relationship with Nigerian singer Iyanya. Yvonne had refused to open up about what transpired in their breakup for years.
Apparently, Yvonne caught Iyanya cheating on her with Nigerian actress Tonto Dikeh. Iyanya denied the claims on Twitter, saying Yvonne gave out 'too much information' and further said he would respond with a book.
4. Yvonne Nelson is a bastard
Yvonne Nelson is fatherless, according to her memoir.
Late Oko Nelson, the man long known to be her father isn't her biological father. She noted in her book that her mother told her late Speaker of Parliament, Peter Ala Adjetey, was her father. But after going for a DNA test with Ala Adjetey's children, the result came out negative.
All these happened because her mother, Margaret Gaddy, didn't know the man who impregnated her with Yvonne. Another twist is that Yvonne Nelson doesn't have a maternal grandfather because he mother didn't know her own father, too.
5. Her mother is wealthy, but nearly aborted her
Yvonne Nelson attended some of the most expensive and well-known private schools in Ghana, thanks to her 'rich' mum, Margaret Gaddy. She attended St. Martin de Porres School in Dansoman, Aggrey Memorial Senior High in Cape Coast and the University of Ghana, Legon. She said while growing up, she didn't perceive her mum to be rich when compared to others but later knew her mum is wealthy due to the quality education she received.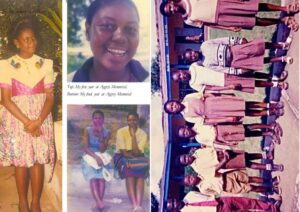 But in all these, her mother wanted to abort her. According to parts of the memoir, Margaret Gaddy wanted to abort Yvonne Nelson because of how she conceived her.
6. At loggerheads with her mum
After finding out that her mother had lied to her about so many things, including who her real father is, Yvonne Nelson decided not to get close to her mother. They've not been talking to each other for years. They are officially estranged.
7. Couldn't get the chance to correct her mistakes
Yvonne Nelson is known for bashing men on any given platform, especially on Father's Day.
I'm patiently awaiting for Yvonne Nelson's Father's Day message.

— David Mawuli (@DavidMawuli) June 18, 2023
In fact, in the past three years, when Father's Day celebration is a day or two ahead, I personally make tweets about the type of message Yvonne Nelson would tweet about fathers. She would celebrate her mother and condemn all fathers during Father's Day celebration.
I know one day, i will celebrate FATHER's DAY!

— 𝓨𝓿𝓸𝓷𝓷𝓮 𝓝𝓮𝓵𝓼𝓸𝓷 (@yvonnenelsongh) June 18, 2023
But after finding out about the lies her mother sold her about her father, she regretted her past actions towards fathers and wanted to apologise to Oko Nelson. But by the time she got there, Oko Nelson had died.
8. Nearly tied the knot with Duncan William's son
In one of the most shocking twists in the memoir, Yvonne Nelson almost tied the knot with the son of Action Chapel Internation founder Archbishop Nicholas Duncan Williams. She said she dated Joel Duncan-Williams and one day, he showed up in her house to propose marriage. But for the marriage to work, Yvonne has to visit Duncan-Williams to cast any demons from her.