Asantehene Otumfuo Nana Osei Tutu II has been invited to join top dignitaries and monarchs around the world to grace King Charles coronation.
The Coronation of King Charles III and his wife Camilla, which has grabbed the attention of the world, is scheduled for Saturday, May 6, 2023, and will take place at Westminster Abbey in London, United Kingdom.
The ceremony will be graced by a long list of powerful men, women, and monarchs around the world, especially the Commonwealth nations who are expected to swear their fealty to the King.  And Ghana's most revered and respected King, Otumfuo Osei Tutu will not be exempted.
According to a press statement by the Manhyia Palace, Oumfuo and his wife Lady Julia Osei Tutu will be in the United Kingdom Friday and will meet the King at Buckingham Palace in a private audience before the main ceremony.
The statement reads: "Before the coronation, His Majesty and Lady Julia will be received by King Charles in a private audience at Buckingham Palace on May 4, 2023, and attend the King's official reception for overseas guests the next day."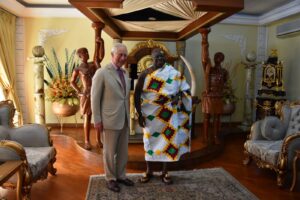 The two sons of King Charles, Prince William and Prince Harry,  and Queen Camilla's children and grandchildren will attend the ceremony.
Prince Harry will attend the ceremony; however, his wife, Meghan Markle, will miss it for reasons unknown to the public and the media.
Prince William and Kate Middleton, Princess Anne and ​​Sir Timothy Laurence, Prince Andrew, Prince Edward and Sophie, Duchess of Edinburgh, and Andrew Parker Bowles will attend the ceremony.
British Prime Minister Rishi Sunak and Akshata Murthy, and Joe Biden's wife and First Lady Dr. Jill Biden will attend the ceremony.
Other international monarchs, including Crown Prince Frederik and Crown Princess Mary of Denmark, King Carl XVI Gustaf and Crown Princess Victoria of Sweden, Crown Prince Haakon and Crown Princess Mette-Marit of Norway, Prince Albert and Princess Charlene of Monaco, King Felipe and Queen Letizia of Spain, Crown Prince Fumihito and Crown Princess Kiko of Japan, King Philippe and Queen Mathilde of Belgium, King Willem-Alexander and Queen Máxima of the Netherlands, Grand Duke Henri and Grand Duchess Maria Teresa of Luxembourg, and King Tuheitia and Makau Ariki Atawhai of Māori will grace the occasion.
Millions of citizens of the United Kingdom are expected to attend the event. Also, millions of people around the globe are expected to watch the ceremony live on TV.